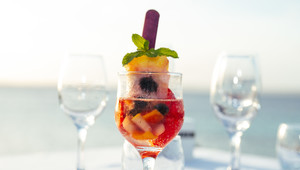 Recycling
At a resort like Plaza Beach & Dive Resort, where guests enjoy their holidays, the production of waste is of course inevitable. As a hotel, we consider it important to handle waste as well as possible. Therefore, all waste is reused or processed in a sustainable way in various departments within our company.
Restaurant
Our guests can enjoy an extensive all-inclusive menu in our restaurant every day. To avoid wasting food as much as possible, leftovers are not thrown away but offered to various cattle farmers on the island. In this way, Plaza Beach & Dive Resort Bonaire contributes to local farmers and reduces their costs.
In addition, drinks at the Palm Beach bar are served in hard, eco-friendly glasses that can be easily reused after cleaning. This prevents plastic drinking glasses from accidentally ending up in the sea or floating around on the beach. Together, we ensure a clean sea and a tidy beach so that everyone can enjoy beautiful Bonaire to the full.
Besides using reusable drinkers, we use post-mix bulk packaging as much as possible so that the amount of soft drink cans and bottles can be reduced.
Clean drinking water
Since the water shortage, which arose on Bonaire around 1960, the island has been smart about extracting pure drinking water. For instance, much drinking water is extracted from seawater and purified twice. As a result, Bonaire's drinking water is extremely pure and contains a minimal amount of residual salt (5-10 mg/l). In addition, the quality of Bonaire's drinking water is strictly monitored, allowing you to drink the island's drinking water with confidence.
To encourage the refilling of drinking bottles, you will find water tap points at various places on our resort. The tap points can be found at the Palm Beach bar, Tipsy Seagull Restaurant, Toucan Diving, the Activity Centre and at the reception, among others.
Plastic bottles
To reduce the circulation of plastic bottles, 1 beautiful Refill bottle per person will be waiting for you in your room on arrival. (a maximum of 2 per room). With the good quality drinking water and many taps at the resort, you can refill this bottle. Should you wish to purchase a new Refill bottle, these are on sale at the Front Office. More information on this can be found here.
Waste sorting
At the resort, we are also actively separating waste, so all our waste is separated into glass, paper and residual waste. There is no deposit on Bonaire, so Plaza Beach & Dive Resort Bonaire has taken the initiative to neatly return the empty beer crates of Zulia beer to the distributor. This way, the beer crates can be reused and we do our bit for nature.