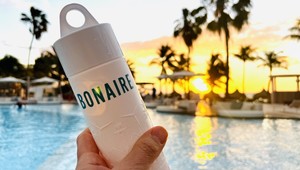 Refill drinking bottles
Tap water on Bonaire is of very good quality, and delicious drinking water! Because we at Plaza Beach & Dive Resort want to reduce plastic waste as much as possible, we cooperate with " Join the Pipe". Join the pipe is committed to getting as many people as possible to drink clean tap water and thus reducing the use of disposable plastic bottles. More information can be found at: https://join-the-pipe.org/pages/our-story.
In cooperation with Join the pipe, we therefore offer our guests a beautiful refill drinking bottle made from cane sugar. You can fill this refill bottle at various places on our resort, such as in your room, at the restaurant, at reception and at the beach bar. Our staff are also on hand to refill your bottle. In addition, there are several tapping points at our resort where you can tap your own water.
To welcome you to our hotel, we will give you this beautiful bottle, featuring Bonaire's skyline, as a souvenir to take home after your holiday (a maximum of 2 bottles can be found per hotel room).